Informatics Journals & EBooks
What is Nursing Informatics?
"Nursing informatics (NI) is a specialty that integrates nursing science, computer science, and information science to manage and communicate data, information, knowledge, and wisdom in nursing practice. NI supports consumers, patients, nurses, and other providers in their decision-making in all roles and settings. This support is accomplished through the use of information structures, information processes, and information techology." (Nursing Informatics: Scope and Standards of Practice, 2008, p. 1.)
  Selected Nursing Informatics Books in the Health Sciences Library
Nursing Informatics and the Foundation of Knowledge
Call Number: WY 26.5 N974 2015
ISBN: 9781284043518
3rd edition
An outstanding student resource and guide to the history of healthcare informatics, current issues, basic informatics concepts, and health information management applications. This comprehensive text includes the building blocks of informatics through complicated topics such as data mining, bioinformatics, and system development. The content is enhanced through its grounding in the Foundation of Knowledge Model. Covers for all levels of nursing practice from a Bachelor's Degree through a DNP degree.
Nursing Informatics: Scope and Standards of Practice
Call Number: WY 26.5 N9739 2015
ISBN: 9781558105799
2nd edition
Covers the full scope of nursing informatics and outlines the competency level of nursing practice and professional performance expected from all informatics nurses and nurse specialists. In addition, it details the nursing informatics competencies needed by any RN, spans all nursing careers and roles, and reflects the impact of informatics in any health care practice environment. This is a must-read for nurses, as informatics touches on every RN's practice.
Informatics and Nursing: Opportunities and Challenges
Call Number: WY 26.5 S516i 2013
ISBN: 9781609136956
4th edition
(On Reserve)
This comprehensive text reviews the concepts and applications of nursing informatics, from computer basics to skills and techniques for using the end product of informatics: data. Other units review the effects that the Internet is having on healthcare, the ins and outs of using personal productivity software, and informatics in the clinical area. This text also comes with a suite of ancillary resourcs for both faculty and students!
Handbook of Informatics for Nurses and Healthcare Professionals
Call Number: WY 26.5 H443h 2013
ISBN: 9780132574952
5th edition (On Reserve)
Advancing Your Career
Call Number: Wy 16 K24a 2012 Reserve
ISBN: 9780803628069
5th edition
Chapter 15: Informatics and documenting outcomes
Conceptual Bases of Professional Nursing
Call Number: WY 86 H776L 2010
ISBN: 9780781792486
7th edition
Chapter 15: Informatics and Technology in Nursing Practice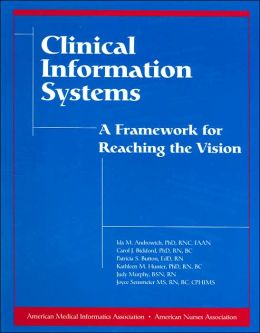 Clinical Information Systems: A Framework for Reaching the Vision
Call Number: WY 26.5 C641 2003
American Medical Informatics Association & American Nurses Association
Nursing Informatics Web Sites
Roger Swartzbaugh
Contact Info
St. John's Hospital
Health Sciences Library
800 E. Carpenter St.
Springfield, IL 62769
Text: 217-280-4582
Phone: 217-544-6464 ext 44566
Fax: 217-525-2895
Send Email